DRSL Bushes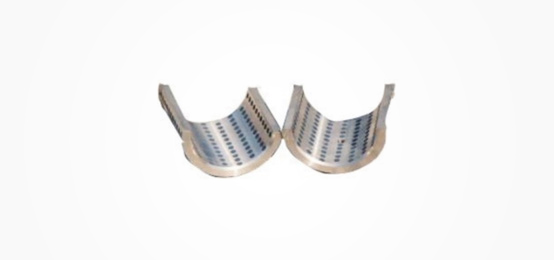 ARVIS DRY RUNNING SELF-LUBRICATING BUSHES - DRSL
Where to Use DRSL
Arvis DRSL bearings are primarily suitable for use where there is a demand for maintanance free operation, high load/low speed, high temperature or intermittent use. Suitable for rotation or linear movement.
Materials
Arvis DRSL bearings are manufactured from SAE660 which is a high grade bronze, with solid graphite plugs as a lubricant embedded into the bearing surface.
Function
During installation the contact areas should eb smeared with grease. As soon as movemnent occurs the solid lubricant is deposited as a film all over the sliding surfaces. This then becomes a permanant film and is available immediately upon starting. The plugs are distributed in a specific pattern to suit the application and may cover up to 25-30% of the sliding surface area.
Design Factors
The compressive strength of the basic material is 240N/mm², but the maximum load for a finished bush is 24N/mm² (3625 psi) at 80 degrees Celsius ambient temperature is 300 degrees Celsius.
Mating Parts
Arvis DRSL bearings will give maintenance free service if our reccomendations for the shaft material are followed. This should be corrosion resistant, with a fine turned or ground finish to better than Ra 1.6 µm, with minimum hardness of 200HB. For bearings working in high temperatures suitable material for the shaft would be stainless martensitic steel, hard chrome or stellite steel.
ARVIS PLUMMER BLOCKS OR BEARING HOUSINGS WITH DRSL
The following Arvis housings can be supplied with DRSL bushes in place of the standard material:- DIN505, DIN506, HB Series, EXALIGN, SAPB.
Bush Materials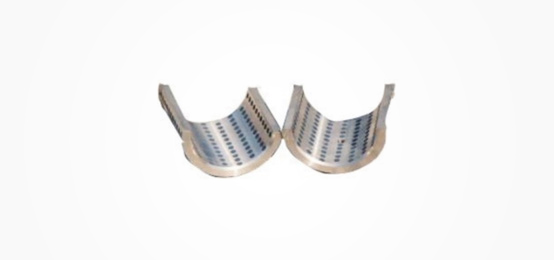 Common materials that we have used over many years are
Bronze
Often referred to as Gun Metal or Yellow metal bearings. A good high load bearing material that has been used for many years. This is very useful for split bushes as it can be cast thus reducing machining time. Standard bushes are usually manufactured from tube material.
Bronze does require regular lubrication.
DEVA-Metal
Is a self-lubricating bearing material manufactured by advanced powder metallurgy.
It is fully compacted, unlike oil-impregnated porous bronze materials that are weak by comparison.
DEVA-Metal is provided with an evenly distributed solid lubricant throughout its metallic matrix.
It is suitable for dry running at slow sliding speeds and high loads
Has high resistance to temperature and corrosion.
Will tolerate contamination and edge pressures.
For more information on DEVA Metal go to www.deva.de/devalpmet_e.htm
Composite Bearing Materials
There are many manufacturers of composite bearing materials and we will be pleased to supply our units with your preferred bush material.
Some materials that we have used successfully in the past are listed below together with Web contact sites where you can find more information.
ORKOT to find more about ORKOT click www.orkothydro.us
ACM to read about ACM materials visit www.acmbearings.co.uk
Other Materials
NYLACAST to read about Nylacast range of materials visit www.nylacast.com
VESCONITE to read about Vesconite visit www.vesconite.com/index.htm
CAST IRON can be used as a bearing or just as a support.
DRSL (Dry running self-lube) is a bronze bush with graphite plugs impregnated in the running surface which supplies continuous lubrication.
Your Preferred Material
If you have a preferred bush material, we will be pleased to quote in that material.
*DEVA Metal and EXALIGN are registered trademarks and the property of Federal-Mogul.


718, Swastik Chambers, 7th Floor,
CST Road, Chembur (East),
Mumbai - 400 071, India.


+91 22 6799 7857 / 58 /59